Cheap Travel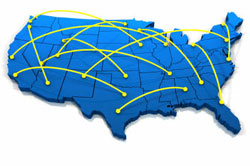 Transportation, Lodging, and Activity Resources for the Budget-Conscious
Getting around and doing things in the United States requires a bit of planning. A little forethought could probably save you some time and money.
Several alternative airlines link up most metropolitan areas. Choosing one of these over the more recognizable names is a great way for you to keep more cash in your pocket. If you're not concerned with the time it takes, traveling by bus is the best way to keep things cheap.
If you're traveling to a larger metropolitan area, excellent public transportation will probably be available. Don't bother with the taxis unless it's absolutely necessary.
It really helps if you can be creative with your overall planning. Doing the "obvious thing" is usually just an obvious way to get ripped off. Avoid the throngs and keep your tourism as non-touristy as possible. There are other, better, cheaper places to get your cheesesteaks, beignets, or deep dish pizzas... you'll just need to look a little harder.
Low Cost Travel
Air Transportation
Low cost airlines are very popular alternatives to mainstream carriers. They keep costs low by eliminating most standard passenger services. Some specific national low cost airlines include:
AirTran
JetBlue
Virgin America
Southwest
Allegiant
Spirit
Frontier
Sun Country
Regional carriers, whose costs are kept low by focusing on smaller geographical areas, are generally in competition with nationally based low cost airlines. There are dozens all over the US, most of which are listed at the following link: http://en.wikipedia.org/wiki/List_of_regional_airlines#Americas
Bus Transportation
The bus may take longer, but it's nearly always less expensive than flying. Busses are pretty much all the same, so the cheaper the better. If you're in the eastern half of the US, you'll be hard-pressed to find a cheaper solution to your travel needs than MegaBus. If you book in advance, their tickets are as low as a dollar! So plan ahead and keep your money for important things.
Low Cost Lodging
Chain hotels and motels dominate the travel lodging market in the United States. But if you are willing to look around a little bit, you'll be able to find places to stay for much lower than your average cost. Your standard solution would be a budget hotel.
You can use USA.com http://Travel.usa.com to search over 50,000 Hotels in 35,000 American Cities. Quickly & Easily Compare Prices from 30 Top Travel Sites.